COOLSCULPTING ELITE
Tulsa Hills Cosmetic and Laser Skin Center is pleased to offer CoolSculpting Elite, the most advanced CoolSculpting technology available. CoolSculpting Elite systems freeze 2x the stubborn fat with dual applicators which allows us to treat bilateral areas at the same time!


Time - 35+ Min.
On average, a single CoolSculpting Elite session will last 35 minutes. If more areas are treated in the same session, plan on more time.


Results - 1+ Months
Cryolipolysis (fat freezing) kills fat cells in a gradual way so that your body can naturally eliminate the fat. Results are visible at 1 month but continue to improve up to 3 months. For optimal results, the same area may require 2 treatments.

Price - $$/$$$
Depending on the number of areas needing treatment, the price will vary. The good news - CoolSculpting Elite has straightforward pricing: $500 per cycle.

Downtime - Minimal
CoolSculpting Elite is nonsurgical and noninvasive. Patients may experience mild swelling, tenderness, and bruising to the treatment area. Most patients are able to resume normal activities almost immediately.
CoolSculpting in Tulsa, OK

While diet and physical activity certainly play critical roles in maintaining ideal body weight, we also know that sometimes it isn't this simple. Sometimes, despite losing the weight you want, you're still dealing with unwanted pockets of fat around your midsection or thighs. These areas may not be improved through diet and exercise alone; however, our Tulsa, OK, dermatologist Dr. Alison Fischer and the team at Tulsa Hills Cosmetic & Laser Skin Center may be able to treat these stubborn areas of fat with CoolSculpting.
What is CoolSculpting?
This non-invasive cosmetic system uses a gentle and safe cooling system that is directed over the treatment area to penetrate through the skin to target, freeze, and kill the fat cells. According to the CoolSculpting website, this procedure can reduce fat cells by about 20 to 25 percent.
Coming into Our Office for a CoolSculpting Consultation
The first step is to come in for a consultation so that our dermatologist Dr. Fischer can sit down with you to better understand your cosmetic goals. This procedure, as with most cosmetic treatments we offer, can be tailored to meet your needs. Once we have created the proper treatment plan we will also determine if you require more than one CoolSculpting session to achieve the optimal results. Depending on your specific needs, we may be able to treat more than one area at a time.
Undergoing CoolSculpting
During treatment, a special pad will be placed over the area and the handheld CoolSculpting device will transmit the proper amount of cooling to the area to freeze and destroy unwanted fat cells. Since the treatment process is completely non-invasive and painless you can easily listen to music, watch something on your phone or read a book during your session. There is typically no downtime or recovery period with CoolSculpting, so patients can return to their normal activities immediately after treatment.
Seeing Results After CoolSculpting Treatment
Many patients report seeing results around three weeks after their treatment; however, you won't see significant changes until about two months. Even then, your body will still be removing those unwanted fat cells for up to six months after your cooling procedure.
Candidates for CoolSculpting
It's important to note that this treatment isn't right for everyone. An ideal candidate will be someone who already has reached the ideal or close to ideal weight but wants to spot treat certain areas that aren't responding to a healthy diet and regular exercise. CoolSculpting should not be considered a weight-loss treatment or a solution for being overweight or obese. This should be a complementary treatment to get you one step closer to the more ideal shape and figure you want.
ABOUT FAT FREEZING
CoolSculpting Elite literally freezes and kills fat cells. Experts spent years developing and refining the process, which they call cryolipolysis. CoolSculpting Elite is the next generation CoolSculpting technology. It offers dual applicators to treat 2 areas of fat at the same time.
CoolSculpting Elite is Redesigned, Reimagined, Redefined.
The look has changed. CoolSculpting Elite is smaller, quieter, and a more effective experience.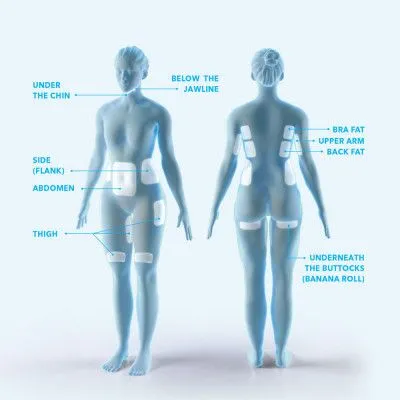 FDA-Cleared
CoolSculpting Elite is the one and only treatment FDA-cleared to eliminate stubborn fat in 9 different areas of the body. Utilizing freezing technology, CoolSculpting eliminates 20-25% of treated fat cells for good with each session.
AVAIL our CoolSculpting PRODUCTS and SERVICES HERE.
If you are interested in taking inches off your figure and you want to find out if CoolSculpting is the right option for you, call Tulsa Hills Cosmetic & Laser Skin Center at (918) 293-1287 to schedule a consultation. Serving Jenks, OK in Tulsa, OK.
VIDEOS
View Our CoolSculpting Demo
Follow our YouTube channel!
The Science Behind CoolSculpting Elite
CoolSculpting Elite
April 22nd, 2021
CoolSculpting. Freeze Away Fat.
April 16th, 2020
Live Demo: CoolSculpting
May 8th, 2018
CoolSculpting to Flanks
November 15th, 2017
BEFORE AND AFTER
COOLSCULPTING
Tulsa Hills Cosmetic & Laser Skin Center has offered CoolSculpting since 2011. Just about any area of the body can be treated - abdomen, thighs, arms, etc. Wherever pinch-able, stubborn fat exists, CoolSculpting can be performed to freeze away and permanently remove fat cells without surgery or downtime.